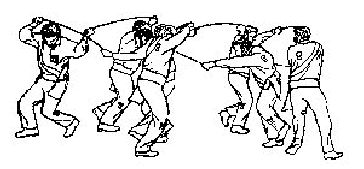 2018 saw the Southport Swords Celebrating their 50th Birthday. Thanks to all who came and helped us to celebrate.
The Southport Swords are a team of Sword and Morris dancers based in Southport, which is a seaside town about 12 miles north of Liverpool, England. We were formed in 1968 primarily to dance English longsword dances, but also Cotswold and rapper. Recognisable by our trendy navy blue cord trousers, white shirts, red cummerbunds and spotted neckerchiefs, we have danced across the UK and in Eire, Belgium and France. We are always pleased to welcome new members, with or without previous experience. Although we are a men's dance side, we welcome female musicians.
Our longsword repertoire was originally based on the North Skelton tradition but now includes four distinctive dances with links to the Southport area, plus the Papa Stour and Elgin dances from Scotland. We are proud to uphold a tradition of longsword dancing in Lancashire, first recorded in 1712! We also dance Cotswold Morris dances, primarily from Adderbury and Bampton, and also dance the Newbiggin Rapper Sword dance.
We currently practise on Tuesday nights, 8-30 -10.30, at the Mount, Manchester Rd, Southport. During the winter months we mainly practise, but with the occasional dance out such as our traditional Boxing Day lunchtime dance meet at the Hesketh Arms, Churchtown (see Program), followed by the Guesthouse in Union Street, Southport. During the summer we dance out on Tuesday evenings at various local pubs and also go away for weekends of dancing with different sides around the country. Most years we have a Day of Dance in May when other sides come to join us dancing out around the area.
If you are thinking of joining us, why not come to one of our practice nights to see if you would enjoy sword dancing. Please phone beforehand to ensure we are not dancing out.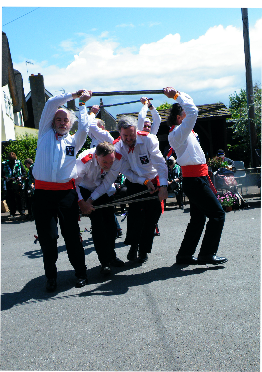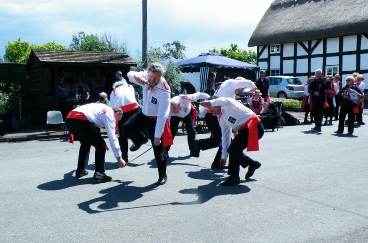 This site was created January 2002 by Les Brown
Re- designed 1-12-12
Updated 7-06-22 (Program)

For the most up to date info about our activities see our Facebook page.